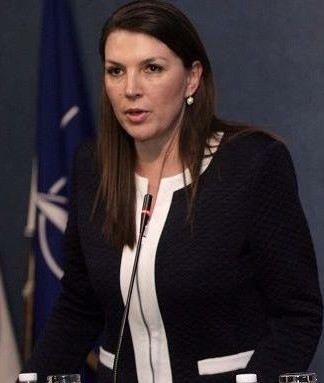 Career
November 2014 – May 2016: Spokesperson for the Ministry of Foreign Affairs.
August – November 2014: Adviser for Media Policy, Public Relations and Intergovernmental Relations in the Economic Sector at the Cabinet of the Deputy Prime Minister and Minister of Regional Development and Public Works in the caretaker cabinet.
March – July 2013: Director of the Public Relations, Communications and Protocol Directorate of the Ministry of Economy and Energy.
October 2010 – March 2013: Director of the Public Relations, Communications and Protocol Directorate of the Ministry of Finance, in charge of organising, implementing and controlling the information policy of the Ministry of Finance and of the Deputy Prime Minister and Minister of Finance.
July 2007 – October 2010: First Secretary, responsible for media relations and communication strategies, at the Permanent Representation of the Republic of Bulgaria to the European Union, Brussels.
2005 – 2007: Consultant and analyst, Public Information Office (PIO) of NATO's Supreme Headquarters Allied Powers Europe (SHAPE). In charge of preparing a detailed analysis of media in the East European countries and the former Soviet republics. Provided recommendations on PIO SHAPE's media policy in those regions. Shared in defining NATO's media objectives for the Riga Summit. Prepared analyses of the political processes in Eastern Europe and Russia, as well as analyses of the media coverage of NATO's policy and the International Security Assistance Force (ISAF) in Afghanistan. Worked on the formulation of the general messages to the people in Afghanistan about NATO's operations in that country. Took part, together with foreign and local journalists and NGOs, in ISAF's information campaign in its areas of operation in Afghanistan.
2000 – 2005: Correspondent of the Trud daily in Brussels.
1990 –1998: News presenter and editor at the International News Desk of the Bulgarian National Television (BNT). Produced and presented the BNT prime-time and evening newscasts. Coordinated the work and input of newscast editors and correspondents. From 1995 to 1997, worked on assignments as BNT special correspondent in Belgrade, the Persian Gulf and Europe.
Education
State University of Budapest, Hungary: Bachelor's Degree; 'St. Kliment Ohridski' University of Sofia: Master's Degree in Philosophy and Philosophical Sciences.
Fluent in English, French and Russian; working knowledge of Hungarian and Spanish.