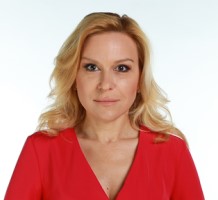 Gabriela Dimitrova Naplatanova-Ruseva, PhD, journalist.
Appointed as a member of the Council for Electronic Media by a decree of President Rumen Radev on 9 May 2022.
Gabriela Naplatanova was awarded a master's degree from the Faculty of Journalism and Mass Communication in the Sofia University 'St. Kliment Ohridski', where she graduated in Public Relations major.
In the same faculty she was a visiting lecturer in the period 2015—2017.
She has trained with the IREX and IVLP programs of the U.S. Department of State and the George C. Marshall European Center for Security Studies, and has participated in numerous U.S. Mission to NATO media programs.
In 2019 she defended her dissertation on 'Managing Media Effects and Media Operations during Armed Conflict' at the 'G.S. Rakovski' Military Academy Faculty of National Security.
She started her professional career at Nova TV in 1997. She has been part of the News and Current Broadcasts editorial team at bTV since the establishment of the TV in 2000.
She has covered intensively topics related to Bulgaria's domestic and foreign policy, security and defence issues, armed conflicts in the Balkans, Iraq and Afghanistan.
She is the author of several dozen documentary projects on foreign policy and military issues related to NATO, cyber security, data protection and refugee issues.
Over the years she has hosted several special studios on bTV on topics related to defence and foreign policy.
Winner of numerous awards and honours for her journalistic work and documentary projects in her 25-year television career.